Semiconductor Industry:
• UBM - Aluminum
• UBM - Copper
• CMOS-compatible
• MEMS Capping
PCB Finishes
Flip Chip Final Finishes
Connector Industry

General Metal Finishing
•New Miralloy 2851
•Electroless Nickel
•Electroless Gold and
Other Products
Automotive Industry
Ceramic Substrates
Apparel Industry
Jewelry Industry
Healthcare/Food Service
Process Equipment
Product Design / R&D
The Uyemura Alliance
Tech Service
FAQ
Uyemura Asia
Media
Contacts
Policy Statement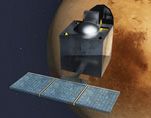 The Indian Space Research Organization has put in orbit, an ultra-low cost space probe.
Read how they did it - using exclusively
Uyemura chemistry for mission-critical PCBs!
Important News
for Backplane
Manufacturers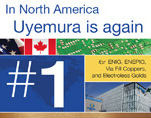 We are honored, and deeply grateful to our customers,vendor
partners and employees
for making us North America's leader in
PCB finishes.

"Powered by science, focused on customers."

Uyemura provides exceptional, problem-solving finishing technology solutions, including the broadest
range of PCB finishes, ENIG, ENEPIG, ENAG, and much more.

Technology





ENEPIG Final Finish
ENEPIG produces a highly uniform EN deposit, followed by electroless palladium, with an immersion gold flash. It forms highly robust solder joints with lead-free SAC-type alloys, and is an excellent solution for IC package PCB substrates.

Plasma Technology
Uyemura and Europlasma NV have brought advanced vacuum plasma treatment to electronic manufacturers and board makers. Learn how Nanofics® can provide long-term hydrophobic / oleophobic protection. More

CL-NC Alkaline Copper
This cyanide-free, semi-bright copper electroplating process offers direct plating on aluminum. Ideal as a base for bright nickel / microcrack / chrome finishing, and, when used with a nickel barrier, as a base for plating gold.

EVF-N DC Via Fill
Thru-Cup EVF-N plates copper
in through-holes and blind
vias simultaneously, cutting
process time by 50%. It
delivers exceptional perfor-
mance for blind via diameters
smaller than 150 micrometers.

Industry News


eSurface is an evolutionary process for the manufacture of PCBs and other electronic components. It provides greater than 50% in process cost savings over current manufacturing technology, almost completely eliminates the toxic waste generated by conventional methods, and allows conductive material to be applied to any surface that can receive a photographic image. more>

George Milad, National Accounts Manager for Technology, had three important fall speaking engagements.

On September 9, during PCB West, he presented a paper titled New Developments in ENIG and ENEPIG for Today's Electronic Products. On September 30, during SMTA's International conference, he was a panelist at an event which explored methods for early defects detection, solutions, and the latest research. On October 15, at the Materials Science and Technology conference, his talk was titled The Inhibition of Tin Whiskers From Electroplated Tin.

Uyemura: A World Leader in ENIG, ENEPIG, Alkaline Copper, Copper Roughening Products, HASL
Alternative Products, and Immersion Silver

UYEMURA Corporate Headquarters:
3990 Concours, #425 • Ontario, CA 91764 • ph: (909) 466-5635

UYEMURA Tech Center:
240 Town Line Road • Southington, CT 06489 • ph: (860) 793-4011

Contact Information:
For sales and product information, contact Sales@uyemura.com
For customer service, contact Customerservice@uyemura.com

© Copyright 2014. Website designed by www.marketingservicesinc.com • links