UIC's ENEPIG process is the ultimate solution for IC package PCB substrates, particularly ceramic-based SiP products.
ENEPIG's pd plates via chemical reduction, so there's no opportunity for EN layer compromise. UIC ENEPIG helps prevent BGA fractures, can replace the SIT used for HDI cellular phone PCBs.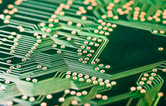 Pure Palladium vs.
Phos-Palladium
Uyemura supplies both.
Each customer is unique,
so we recommend
solutions based solely on
your application.
Read about Pd vs. PdP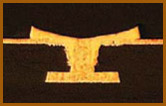 EVF-N DC Via Fill
Thru-Cup EVF-N plates copper
in through-holes and blind
vias simultaneously, cutting
process time by 50%. It
delivers exceptional perfor-
mance for blind via diameters
smaller than 150 micrometers.