Japan Headquarters
C. Uyemura & Co., Ltd. is the
development center for the group,
as well as headquarters for global
production and sales.


C. Uyemura & Co., Ltd.
3-2-6 Dosho-machi
Chou-ku, Osaka 541-0045
Japan
Sales Dept.
Phone: +81-6-6202-8871
Fax: +81-6-6202-8876
International Sales Dept.
Phone: +81-6-6202-8944
Fax: +81-6-6222-0866
China Headquarters

Nanshan Uyemura-Solar Co., Ltd., a subsidiary of Uyemura-Solar Co., Ltd., is production and sales headquarters for abrasives, surface finishing equipment and specialty chemical products. It is a regional product development center.
Nanshan Uyemura-Solar Co., Ltd.
Block 6, Nanshan,
The 3rd Industrial Estate, Nanshan District
Shenzhen, China
Phone: +86-21-5048-1001
Fax: +86-21-5048-1058
Hong Kong Headquarters
Uyemura-Solar Co., Ltd. manages sales of chemical products
and surface finishing systems to China, including Hong Kong.
Dramatic recent changes in China's business climate have
created tremendous sales opportunities within its growing
PCB market.
Uyemura-Solar Co., Ltd.
Flat A & B, 19th Floor
CDW Bldg 388, Castle Peak Road
Tsuen Wan, N.T., Hong Kong
Phone: +852-2-414-4251
Fax: +852-2-413-6266
Malaysia Headquarters
This is the production center for the ASEAN region, responsible for
the manufacture and sale of a broad range of chemical products.
One primary focus is the blending of electroless nickel plating solutions
and pretreatments for the aluminum hard disk industry and general-use
electroless nickel plating processes.
Uyemura (Malaysia) Sdn. Bhd.
PLO 533, Julan Keluli 8, Zone 12, 81700
Pasir Gudang Johor
Darul Takzim, Malaysia
Phone: +60-7-251-1566
Fax: +60-7-252-0631
Osaka Headquarters
Sumix Corporation is a plating company that works with many substrates,
including PCBs, automobile parts and household appliances. The company
began as a test factory for Uyemura's chemical products and equipment;
today it is one of the region's largest plating companies.
Sumix Corporation
3-35-23 Kajimachi
Moriguchi, Osaka 570-0015
Japan
Phone: +81-6-6902-6171
Fax: +81-6-6905-9035
Singapore Headquarters
Uyemura Singapore markets specialty chemical products and surface
finishing equipment to the ASEAN market(Singapore, Malaysia, Thailand,
Indonesia, Vietnam and the Philippines.) The market is currently focused on
products for aluminum hard disks, and electroless nickel
plating solutions for industrial applications. Significant growth is expected
in this market for products related to the manufacture of PCBs.

Uyemura Singapore
2 Jurong East St. 21, No. 05-22/23
IMM Building
Singapore, 609601
Phone: +65-6-563-1781
Fax: +65-6-563-3876
Taiwan Headquarters
Uyemura Taiwan is a production/ sales center with a chemical
production capability second only to Uyemura Japan. Product
demand centers on PCs and mobile phones. This facility has
secured 70% of the Taiwanese market for plating solutions used
in the electroless nickel/ gold plating process in the final finish
of PCBs, particularly for the high-end.
Uyemura Taiwan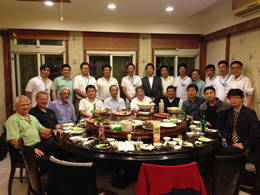 No. 7-1 Min Tzu Road,
Ta-Yuen Shiang Tao Yuen Shieng
Taiwan, R.O.C.
Phone: +886-3-386-6901
Fax: +886-3-386-9895
Members of the Uyemura
technical staff, including Steve Angona, George Gallager, and Steve Bednarz, recently visited their counterparts in Taiwan.
Thailand Headquarters
Uyemura - Thailand provides resin molding, plating and painting for
products including automotive components and materials, and plateable components for household appliances. Their focus is plating services
for major Japanese manufacturers located in Thailand.
Uyemura - Thailand
60/63 Tambol Klong I
Amphur Klongluang
Pathumthani 12120
Thailand
Phone: +66-2-529-0928 +66-2-529-0929 +66-2-529-0930
Fax: +66-2-529-0931
Uyemura Korea Co., Ltd.
#761-6, Geumui-ri, Jangan-myeon,
Hwaseong-si, Gyeonggi-do,
Korea

Phone: 82-31-8047-4800
Fax:82-31-8047-4899
Central Research & Development Center
It is at this important facility that Uyemura
maintains its technological advantage in the global surface finishing
industry. Using the latest technology in analytical equipment,
the experienced R&D staff pursues the continuous advancement
of products for this key industry.
Central Research & Development Center
1-5-1, Deguchi
Hirakata, Osaka, 573-0065
Japan
Phone: +81-72-832-8171
Fax: +81-72-832-6559