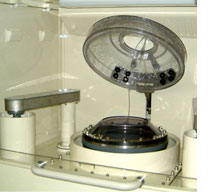 This fully automatic plater uses high speed rotation and
centrifugal force to optimize electrical contact between the
plating material and cathode, It also uses inertia when the
equipment brakes to a rapid stop to force fluid mixing of the
plating material. This ensures a homogeneous deposit thickness,
as well as high current density operation that is substantially
greater than what's technically possible with conventional barrel
plating. The RP-2 is ideal for electrolytic plating of nickel, tin
and copper plating, as well as fine powders.
Process Features:
Plates 3-5X faster than traditional barrel systems
Exceptional deposit uniformity
Filter changes make enable plating with fine powders (10-50 µm)
Accommodates chip capacities of 2 mil X 1 mil
Environmental Features:
Enclosed process manages fumes and evaporation
Minimal drag-out design
Does not require media for plating
System Features:
Dual-chemical reservoirs standard
User programmable logic control, with touch screen interface
Equipped for R&D or production
Environmentally friendly, labor-saving design
Process plating (first plate, rinse, second plate) can be performed in one module.
The number of modules can be increased to suit user specifications.
See the RP-2 FA video: wmv or mov
Uyemura will recommend plating systems,
plating controls and environmental management
strategies to meet your needs and goals.