An Open Letter to Our Many Friends,
Colleagues, Customers, and Partners
Rarely do so many landmark events happen at once.
In this case, we at Uyemura are celebrating our best year, extraordinary success in a new market that has seemingly limitless potential, and an important evolution in our Senior Leadership Team.
Personally, I have taken a new role, with a 3-year agreement that allows me to focus exclusively on primary accounts, and manage international relations. This was an important element of the company's 5-year plan. For me, as founder and President of Uyemura USA, it is a long-anticipated opportunity to work intensely in two arenas where my 33 years with this extraordinary company can best serve its long-term goals – and mine.
Taking the role of President and CEO is Mark Eonta. This is a well-deserved appointment on what is his 10th anniversary of service to Uyemura. Most recently, Mark was our Vice President, Sales.
I expect Mark's technical skills and sales experience to be central to our success in adapting processes to solve customer issues, and to energizing our many strategic partnerships.
My agreement began this month, with potential re-negotiation in 2025. I will continue work from my office at corporate headquarters in California. Mr. Eonta will work between headquarters and our Technology Center in Connecticut.
The success of our development efforts promises to make the next two years, in particular, truly transformational for Uyemura. I look forward as always, to your thoughts, your counsel – and your friendship.
Sincerely,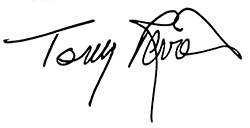 Tony Revier