Satin Nickel, Electroless Nickel, Electroless Nickel for Aluminum
CL Satin Nickel – process produces fine-crystalline nickel deposits on a wide range of base metals (including polished metals) as well as molded plastics. Satin nickel will also plate over a bright nickel layer of a duplex nickel system to give the substrate maximum anti-corrosion performance. Distinctive color effects can be achieved by over-plating with chrome, antique nickel, black nickel, black chrome gold, or a tin-cobalt alloy topcoat. CL Satin Nickel Plating needs just 8 hours, rather than the standard 12 hours, for filtration.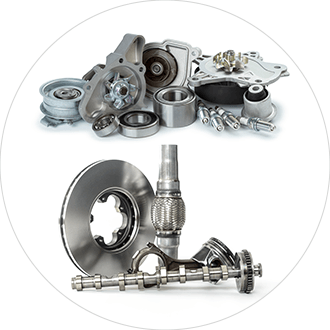 CL Satin Nickel plating has gained wide acceptance in the automotive and plumbing industries. Uyemura introduced this important satin plating technology to the North American market, and is today a leading supplier of satin nickel processes.
Nickstar Black Nickel – a black nickel technology that deposits a thin, and highly uniform over-coat of black nickel-zinc alloy, preserving the substrate's brightness while producing an exceptionally rich black nickel finish.
KTY Electroless Nickel – from the research labs of Uyemura-Japan, this process is the world's first "heavy metal-free"electroless nickel. This means automakers get the brightness and stability they need in an electroless nickel process that's free of all heavy metals.
ANP Electroless Nickel – electroless nickel plating for aluminum provides excellent adhesion through at least six MTOs. The process does not employ a strike and adds no additional steps compared to normal aluminum preparation double zincating. The ANP electroless nickel process combines Uyemura's lead and cadmium-free electroless nickel with proprietary cleaning, etching and zincating technologies.
Niphos® 968 – bright nickel-phosphorus alloy was developed to plate steel rods in hydraulics and shock absorbers: nickel-phosphorus layers are combined with chromium as a final layer. This combination allows lower thicknesses of the chromium and dramatically improves wear properties of the complete system. Niphos products generate huge energy savings as EN replacements, and exhibits less internal stress compared with existing nickel-phos electrolytes. Also available, Niphos 965 for reel-to-reel finishes.
Dialloy – tin/zinc alloy process that can produce 80/20 or 70/30 alloys. Provides good distribution, weldability and solderability and excellent corrosion protection for iron and iron alloys. Ideal for clamps, bolts, lock washers and other fastener products.
A full line of Zinc processes (ie, cyanide, alkaline no-cyanide, and chloride systems); and various colored Chromate and Trivalent Conversion Coatings are also available.
CL Satin Nickel is a trademarked product of KHW Galvanotechnik GmbH. Niphos, and Dialloy are trademarked products of Umicore-GT. All other products listed including electroless nickel, are from Uyemura.