Electroless Gold, Electroless Nickel, and Electrolytic Tin for Ceramic Applications
AuBEL Electroless Gold – Stable, alkaline pH, autocatalytic process. This system has been used in production for more than 20 years.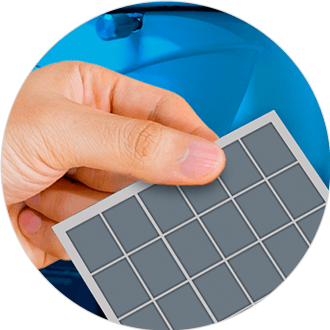 Features include:
High deposition rate of 80 microinches per hour
Pure gold deposit, greater than 99.9%
Excellent gold wire bond properties
Gold and reducer can be replenished
Gobright® TMX is a neutral autocatalytic / electroless gold process that meets IC (BGA, MCM, etc.) and PWB wire bonding requirements. Stable bath has an extended service life.
BEL-801 Electroless Nickel – Boron electroless nickel for deposition over metallized ceramic substrates. System operates at a neutral pH.
Features include:
Fast initiation onto catalyzed surfaces, thus eliminating skip plating
Nickel purity over 99%
High conductivity electroless nickel deposit
High as-plated hardness of approximately 800 Hv
Long bath life up to 5 metal turn overs
Excellent solderability
Pretreatment for Electroless Plating of Metallized Ceramics – Uyemura has a variety of pretreatment processes available for the cleaning and activation of metallized ceramics. Specific systems are available for standard ceramics, low temperature co-fired ceramics, glass ceramics, and aluminum nitride. The net result is a uniform catalyzation of the metallized surface without damage to the underlying ceramic substrate.
NTB-302 electrolytic tin produces a uniform coating of pure tin for chip resistors, chip capacitors, chip inductors, and other applications that can't be exposed to acidic solutions. Deposited film of electrolytic tin has exceptionally uniform grain structure, plus:
Excellent solderability
Low foaming bath; use with barrel or high-speed rotation electroplating equipment. Ideal plating with RP-1 equipment
Read "Electroless Plating for LTCC Metallization" published in Ceramic Industry magazine.
Read "Neutral Autocatalytic Electroless Gold Plating Process" in our Library section.