News and Videos
Pat Valentine Awarded Doctorate Degree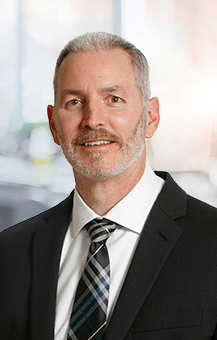 Uyemura extends its warmest congratulations to Pat Valentine, Six Sigma Master Black Belt and Uyemura's Manager – Lean Six Sigma & Continuous Improvement, on being awarded a Doctorate Degree in Quality Systems Management from the New England College of Business.
Dr. Valentine joined Uyemura in 2015, leading the company's organization-wide continuous improvement program based on industry Best Practices for planning, implementation, review and documentation. His dissertation, A Study of Critical Success Factors for ISO 9001 and Lean Six Sigma in The North American Printed Circuit Board Industry, evaluated the success factors for implementing and sustaining ISO 9001 and Lean Six Sigma in the PCB industry using canonical correlation and other analysis techniques.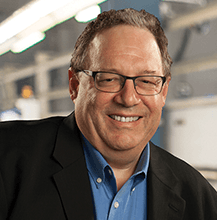 Rich DePoto, Business Development Manager, presented "Contrasting Soldering Results of ENIG and EPIG, Post Steam Aging" at IPC APEX EXPO 2019, in San Diego. ENIG, (electroless nickel immersion gold) is a well-regarded finish for enhancing and preserving the solderability of copper circuits. EPIG (electroless palladium immersion gold) is a new surface finish, also for enhancing solderability but with the advantage of a deposit layer free of electroless nickel. This feature has become increasingly important with the increasing use of High Frequency PWB designs whereby nickel's magnetic properties are detrimental. The presentation examined these two finishes and their respective soldering characteristics as-plated and after steam aging, and explained the performance deviation.
6 Honored for Exemplary Performance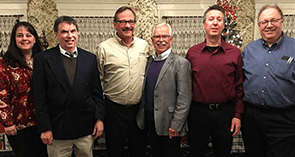 President Tony Revier (4th from left) recognized 6 UIC employees for their extraordinary service as a highlight of UIC's annual Christmas dinner. Receiving awards were Patricia Wolowicz, Office and Inventory Control Manager; David Liston, Director of Operations; Scott Butterfield, Technical Service Representative; John Meyers, Strategic Account Manager; and Rich DePoto, Business Development Manager. April LaBonte, Technical Service Engineer (not shown) was also honored.
New Mixed Reaction Autocatalytic Gold Meets OEM Demand for Thicker Gold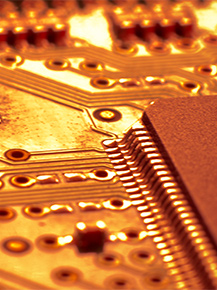 A new Uyemura technology, TWX-40, allows gold deposits of up to 8μin in ENIG and ENEPIG processing, in a single step.
TWX-40 is a reduction-assisted immersion gold bath that deposits gold using both immersion and autocatalytic (electroless) reactions.
The autocatalytic feature allows the gold to build without attacking the electroless nickel layer. Deposit uniformity is independent of pad sizes and PCB surface geometry or residual capacitance potential.
TWX-40 gold electrolyte plates directly on electroless palladium or nickel without intermediate activation. The bath exhibits excellent stability and fine geometry edge resolution. Best results are achieved when the bath is used with UIC's Talon electroless palladium baths as the underlayer for PWBs and IC packages. more
Groundbreaking Technology Facilitates Direct-to-Cu Plating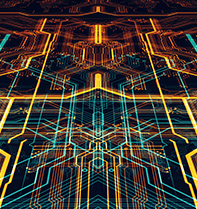 Uyemura announces Talon 3 electroless palladium, a groundbreaking technology in board chemistry that allows plating directly onto copper. This development paves the way for EPIG – electroless palladium / immersion gold, a nickel-free alternative that becomes more consequential as lines become tighter and space more critical.
The EPIG finish made possible with Talon 3 electroless palladium solders perfectly after eight hours of steam aging – a significant achievement. The process was developed by Uyemura's Connecticut Tech Center, one of the industry's most renowned facilities for the development and testing of board chemistries. more
Uyemura Leads With EU REACH Compliance
Uyemura, and its European affiliate, Umicore, announce a series of European REACH-compliant (nickel-free) plating solutions for manufacturers of metal components.
REACH-compliant solutions provided by Uyemura include Miralloy, a copper/tin/ zinc alloy that replaces silver, palladium and nickel for a many applications, and Palluna 457, a pure palladium that's low in porosity, corrosion resistant, and builds crack-free layers of 3 μm and higher.
I-Connect007 Interviews Rich DePoto at IPC APEX 2019